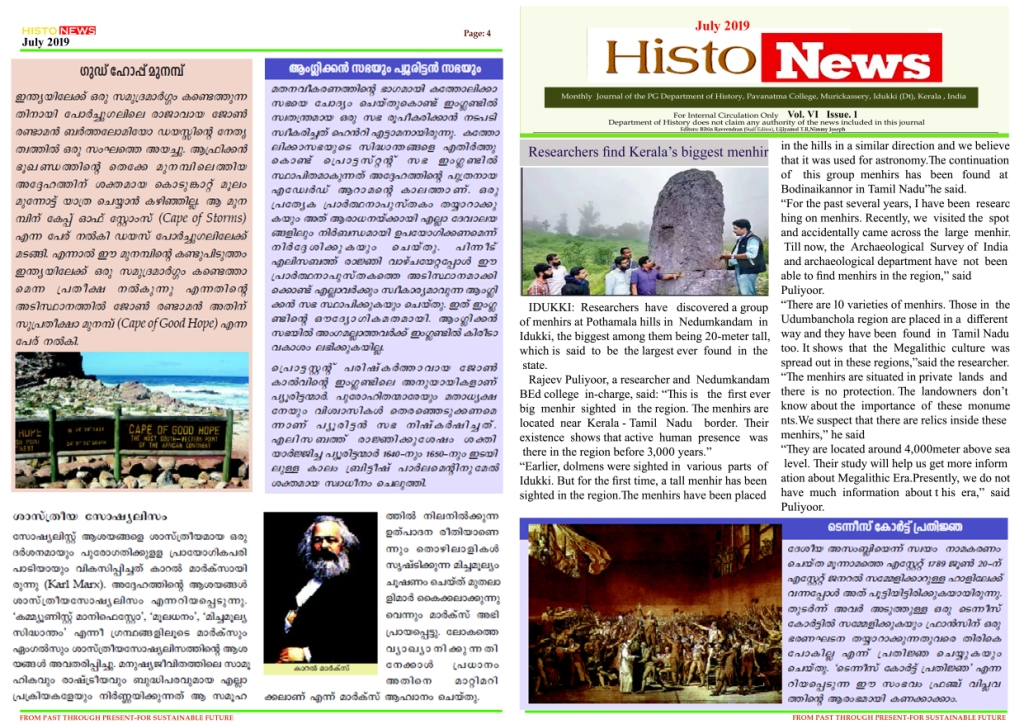 Career Oriented Activities
Career Oriented Add on course
Department of History successfully conducts Certificate Course and Diploma Course in Career Oriented Add on Course named Tribals and Participatory Forest Management.
Competitive Examination Coaching – Histo Race
Department provides special coaching for NET and PSC examinations.
ACADEMIC ENRICHMENT AND EXTENSION ACTIVITIES
The Histo museum is a place to preserve historical evidences.
A wide collection of books, manuscripts, records, periodicals etc. written on Idukki is preserved in the department in order to reveal the concealed History of the district.
OUT REACH ACTIVITIES
Second Year Students conducts interactive programmes to the tribes in Idukki district.
Seminar for Self Help Groups
Final year Students conducts voluntary seminars in various Self Help Groups in Idukki, Udumbanchola and Devikulam taluks on relevant topics including Regional History , Organic Farming, Tissue Culture, Poly House, Medicinal Plants and First Aid.
DEPARTMENTAL ACTIVITIES
Monthly History Lecture Series
Department of History introduced an innovative departmental practice through Monthly History Lecture series. Writers, scholars who are interested in regional History of Idukki were invited to share their knowledge to the upcoming student historians.
Hiroshima Day Commemoration
The Department observed 6 th of August as Hiroshima Commemoration day in order to instill in students of History the tragic consequences of War and ill effects of scientific development.